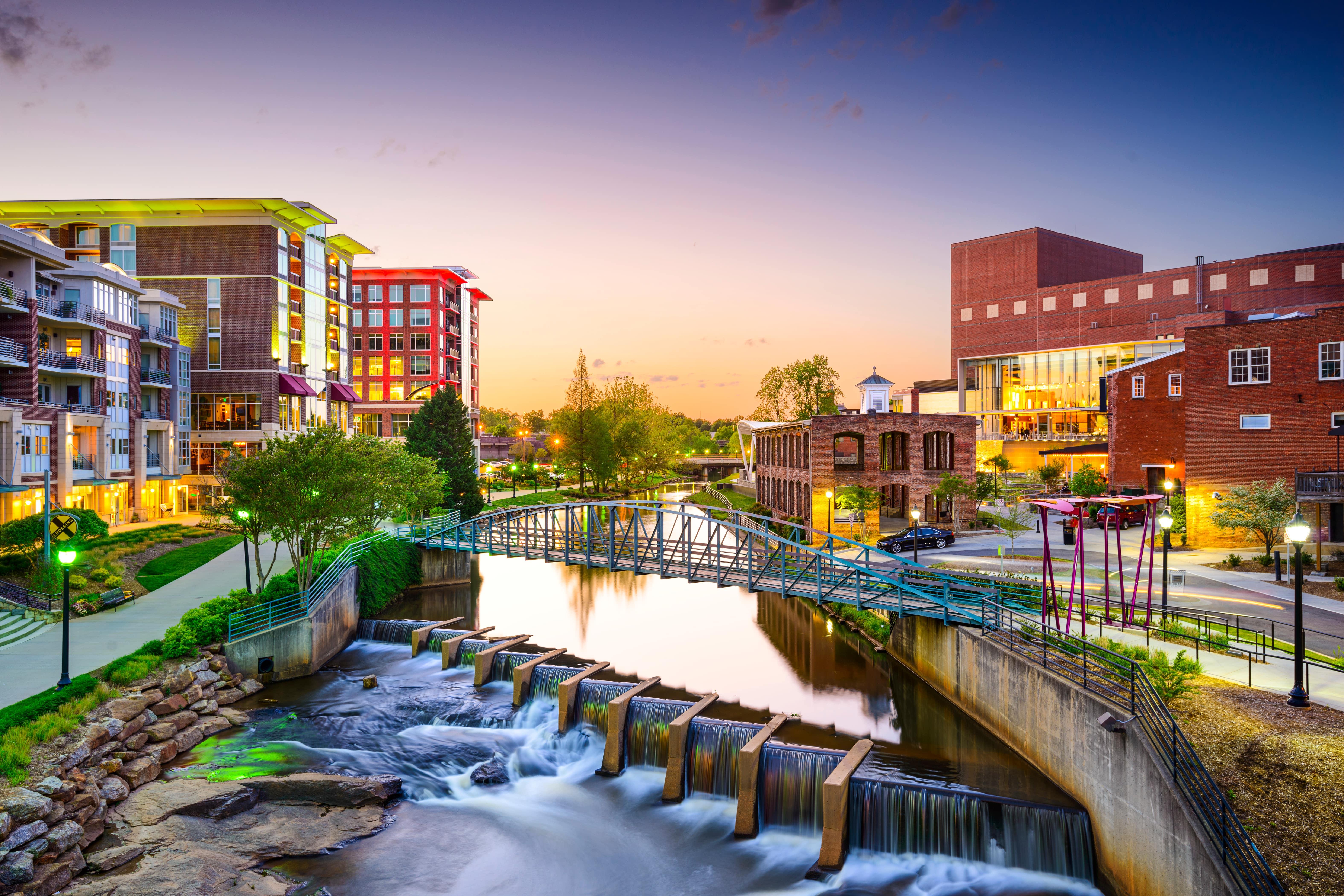 Greenville is the sort of thriving, dynamic city that draws people from all walks of life, with something to do for just about everyone.
It's no wonder that Greenville and the outlying cities and suburbs are experiencing growth in both good times and bad. It boasts great shopping, an underrated foodie scene, and a civic life that seems to embrace both the nostalgia from times past with the progression of a welcoming and inclusive community. Wherever you look in Greenville, you will find the sort of place that many are happy to call home.
Meet Nick Smith & Lisa Gilstrap, Greenville Mortgage Bankers at First Palmetto Bank
In his role as a Greenville Mortgage Banker, Nick Smith excels at helping current and future homeowners when purchasing, refinancing or building the home of their dreams. Nick has literally grown up in the area, attending high school at Riverside High School and later attending Clemson University in college where he majored in Financial Management. He started out in the industry in 2018, but he builds upon skills from previous positions with two Fortune 500 companies.
Nick prides himself on providing his mortgage customers with an experience that embodies everything that is Greenville. His personal touch in the mortgage process helps put clients at ease with what can be an otherwise intimidating process. His passion for customer service means that he works with each mortgage customer as he helps them meet their home ownership goals. Nick will tell you that nothing is more satisfying in his professional life than watching his clients move into the home of their dreams or obtain that refinance that just makes life more fun.
Lisa Gilstrap is a Mortgage Banker with over 20 years of experience in the mortgage industry. When you meet Lisa, you immediately gain an appreciation for her attention to detail and her clients will always mention her patience, energy and personalized service. She has helped many homeowners do everything from refinancing their existing home to buyers purchasing a new home or even building that dream home.
Lisa is a transplant to Greenville, growing up in Atlanta, Georgia where she attended South Gwinnett and then attended Kennesaw State University where she graduated in 1995 with a Bachelor of Arts degree in Finance. Lisa has put down plenty of roots, though, and serves local nonprofits and is actively involved in her community. Her knowledge of Greenville's mortgage market ensures that her clients are more than satisfied with their mortgage experience.
A Couple Greenville Highlights
Nick will tell you about a couple of his favorite things about Greenville include the annual BMW Charity PRO-AM and euphoria. The BMW Charity PRO-AM boasts being the only Korn Ferry Tour where amateurs and celebrities team up with Korn Ferry Professionals to play a better-ball competition over three days. The event takes place at the Thornblade Club and Cliffs Valley, which both offer some absolutely scenic golf views and some of the best golfing around. You may even get to meet a celebrity or two at the event, which is all in good fun.
A sometimes lesser-known secret is that Greenville boasts a refined culinary scene with excellent dining. This food destination is perhaps best encapsulated in the event known as euphoria. This self-described upscale event is an annual food journey of exclusive tastings, cooking demonstrations, wine tastings, wine seminars, and delicious multi-course dinners. The event was first launched by singer-songwriter Edwin McCain and Carl Sobocinski of the Table 301 Restaurant Group. Proceeds from the event go to fund Local Boys Do Good, which is a 501(c)(3) which benefits local charities.
Yeah, That Greenville Mortgage
As Carol C. most recently put it:
Thank you [Nick] SO very much for such a smooth refinance!  You have been wonderful to work with, and made the entire process easy and seamless. The closing went perfectly - so thank you very, very much!
Lee C. reported:
Lisa Gilstrap has helped us with all of our mortgage needs. Most recently, a refinance that was done in record time. She is so incredibly friendly, professional and experienced. She is always available to answer questions and provide advice. It was such a smooth process from start to finish. We would highly recommend Lisa and First Palmetto Bank!
Nick and Lisa are both known for their knowledge of Greenville and their ability to deliver results when it comes to obtaining a mortgage on a new home or refinancing an existing mortgage. Their ability to answer questions and guide each client through the process is a hallmark of their passion.  Nick and Lisa both work out of the downtown Greenville First Palmetto Bank office and serve the greater Greenville area and all of their mortgage needs. Learn more today about Nick Smith or Lisa Gilstrap to see how they can help you.
Category: Mortgages
« Back to Financial Resources