Mortgage & Home Loan Options

Traditional Fixed-Rate Mortgages
A fixed-rate mortgage guarantees the interest rate for the life of the loan. This loan offers a predictable monthly payment of principal and interest. Traditional mortgages can range in length, with most being for 15 or 30 years. While a longer-term mortgage offers lower monthly payments of principal and interest - and therefore greater buying power - the interest rate is typically higher than that of a shorter-term mortgage. A shorter-term mortgage builds the equity in your home faster but with larger monthly payments of principal and interest.
Balloon Mortgages
Balloon Mortgages generally offer a competitive rate with a payment amount usually based on fifteen to thirty years with the total balance due after five years. Benefits include a fixed rate for the five-year period with a payment based on a longer amortization term.
Adjustable-Rate Mortgages
An adjustable-rate mortgage, often referred to as an ARM, is a residential mortgage with an interest rate that adjusts over time based on market rates. ARMs typically start with an initial period, where the rate stays fixed for a certain time period before the rate begins adjusting.
Second Mortgages
For customers who want a predictable monthly principal and interest payment, we offer a traditional, fixed rate second mortgage loan with terms as long as fifteen years. 
Bridge Loans
Bridge loans assist homeowners buying a new house when their current home has not sold, or, if under contract, has not yet closed. This short-term financing method allows you to leverage the equity in your existing home.
Construction to Permanent Loans
If you are considering building a home, this loan offers you the convenient advantage of having both your construction loan and permanent financing in one package with one closing. In certain cases, the interest rate on the loan is fixed while you build your home, and funds are disbursed based on the percentage of completion of the construction of your home. There are a variety of financing options from which you may choose.
Home Equity Lines of Credit (HELOC)
A HELOC is a revolving line of credit secured by your home. Once approved, you can disperse funds by writing a line of credit check. As you pay down your outstanding balance, that amount again becomes available to borrow. You get convenient financing with the potential for it to be tax deductible (please consult your tax adviser). A HELOC is commonly used for home improvements, debt consolidation, college tuition, and as a tool to manage unexpected expenses.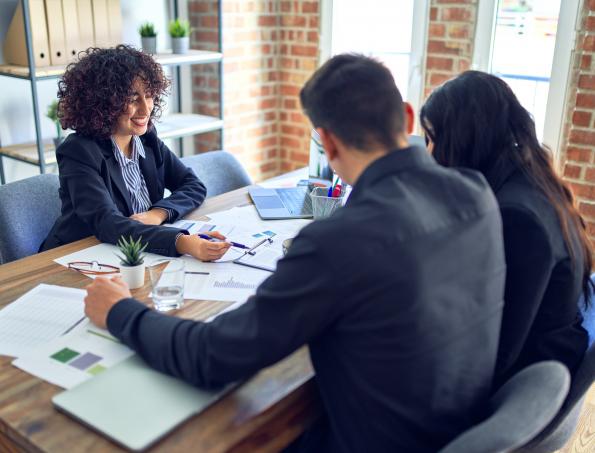 Home Loans
Find a Mortgage Banker
Our expert team of Mortgage Bankers work with you one-on-one to navigate the process of buying a home.