Mobile Banking FAQs
What is Mobile Banking at First Palmetto Bank?

Mobile Banking can be thought of as an extension to Online Banking. Mobile Banking is primarily the First Palmetto Bank Mobile App available in both iTunes (iOS) and the Google Play (Android) official stores. Additionally, we offer a mobile-friendly version of Online Banking accessible by virtually any smart device on the market. Included in Mobile Banking are text alerts (subject to carrier fees) and balance text banking.

What features does First Palmetto Mobile Banking support?

The Mobile App supports include viewing your accounts' balances, viewing your transaction history, transferring money between your bank accounts, reviewing eStatements, viewing your current stop payments, using our Bill Pay to pay your bills online, making mobile check deposits, and sending and receiving money via Zelle.

What accounts are available for viewing in Mobile Banking?

Mobile Banking is currently only available for Personal accounts that are either checking, savings, or money market accounts. You may also reference your loan account, although payments and other tasks may not be applied from the mobile app.

Can I deposit checks using your Mobile App?

Yes, you can use Mobile Deposit to deposit a properly completed and endorsed check.

Is there an additional cost for Mobile Banking?

There is no additional charge for the use of Mobile Banking, and there is no longer a per-item charge for depositing checks.

All regular transaction fees and account fees associated with your accounts at First Palmetto Bank will apply. There also may be additional data and text costs related to accessing your First Palmetto Bank Mobile App. Please check with your wireless carrier if you do not know your charges.

How do I enroll in Mobile Banking?

You must already be enrolled in Online Banking. Once you are fully enrolled in Online Banking, please login to your account and click the "Profile" link where you will click on "Enroll Now."

Complete the enrollment process by sending yourself a link to download the First Palmetto Mobile App. Alternatively, you may proceed to either the iTunes or Google Play stores and download the mobile app.
CheckFree Billpay FAQs
How much does Bill Pay cost?

For Personal Banking accounts, Bill Pay is available at no additional cost. For our Business Banking accounts, please contact your local office for details.

Is it possible to schedule recurring bill payments?

Yes, your schedule can include weekly, semi-monthly, and monthly recurring payments. The final payment of a recurring payment scheme is designated by a "Final Payment Date."

How do I enroll in Bill Pay?

Login to First Palmetto Bank Online Banking and click the "Bill Payment" link to begin the enrollment process.

When I add a new bill payment merchant, how quickly will the change update?

When you update the information for the bill payment account, the changes are implemented almost instantly.

Can I use Bill Pay with all of my accounts?

Only checking accounts can be used for bill payment purposes.

Who can be paid using the Bill Pay system?

Anyone in the 50 United States and territories who can accept a check can be paid using the bill payment system. You can pay practically anyone - charge accounts, utilities, auto loans, professionals, even a lawn service or a relative. However, tax payments (such as federal, state and local) and court directed payments (such as alimony and child support) should not be paid through our online bill payment system. Read the Terms and Conditions of the Bill Payment Service under the caption - Exception Payments.

Is there a limit to the number of Bill Payment accounts I can setup?

Yes, you are limited to one Bill Pay account.

Can I pay my bills on the weekend?

Yes, First Palmetto Bill Pay prefills the payment date with the earliest possible day.

If I schedule multiple bill payments for a single day, how will my account be debited - as a lump sum or separately?

Each bill payment is debited separately.

When is the money for the payment withdrawn from my account?

If the payment is sent electronically, the funds for the payment are withdrawn from your account on the due date. Otherwise, the funds are withdrawn when the check is presented to First Palmetto Bank. Keep in mind, however, that you should always have funds available to cover the payment on the scheduled payment date.

Are all debits and credits sent out at the same time?

Yes, they are all sent out at the same time.

How do I place a "stop payment" on Bill Pay?

A payment may be edited or deleted any time before the "process date." Payments that have been remitted electronically cannot be stopped.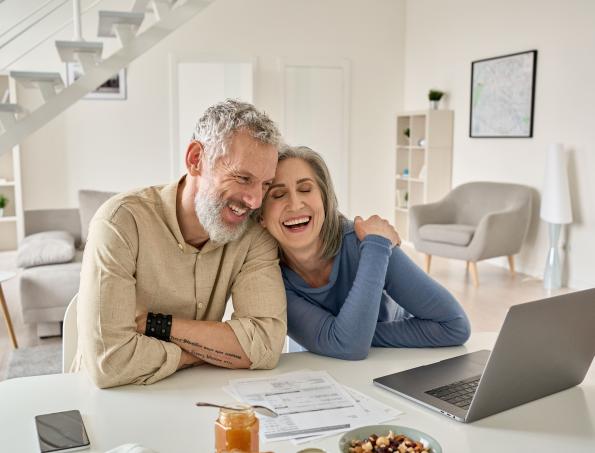 Online Banking
Get easy and secure 24/7 access to your accounts through our online banking site.